When it comes to Dr. Seuss and parties, the sky's the limit. Not only was Dr. Seuss so very whimsical, he was also incredibly colorful. I love Dr. Seuss. My coworker from many years ago, Louise, requested Thing 1 and Thing 2 themed smash cakes and cupcakes for her twin nephew's 1st birthday party. What fun! Her sister-in-law is a fan of Pinterest (as am I) and forwarded a few pictures for inspiration.
She wanted the
cupcakes
to look like the ones in these pictures on top, and the smash cakes in red and blue as seen in the picture on the bottom.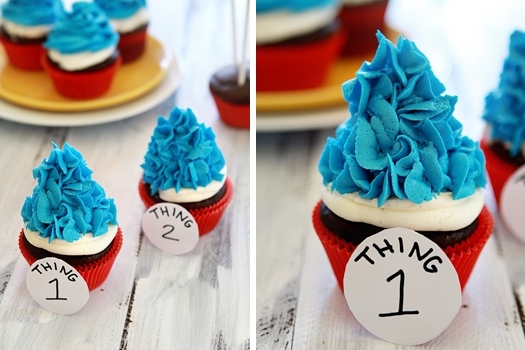 So, here's what I made for little Myles (Thing 1) and Grayson (Thing 2):
Their smash cakes are vanilla cakes without filling. I frosted them with buttercream frosting and decorated them with gum paste accents. I drew on the gum paste with food safe markers.
I was so excited when I found these boxes at Ben Franklin Crafts! How perfect were they?!!
And then here are the cupcakes. I LOVE how they turned out. They are vanilla cupcakes with Bavarian cream filling, topped with buttercream frosting (and a LOT of it!!)
Louise - thanks for thinking of me on such a fun day! I hope that your nephews had a great birthday party!